As you will see, at ClarkUp Solution, we like Simplicity.
Because the simpler it is… And the less complicated it is!
Yoiu are in one of these situations ?
You're on your own and don't have the time to prospect.
You want a time-share sales prospect.
You want to outsource your prospecting
Other…
CONTACT US to tell us about your business development needs.
Our business prospecting services are done on Social Networks:
Thus we offer 2 Solutions:
The button, Simple CRM Software, allows you to discover the simple software that our employees work with every day. You can acquire it and so you will be autonomous with a real simple software, crm simple, for you or your sales collaborators.
The button, Request a QUOTE, puts you in touch with our Sales Manager to understand your needs, expectations and see how we can help you achieve your goals with a consistent rate for our 2 companies.
Simple CRM software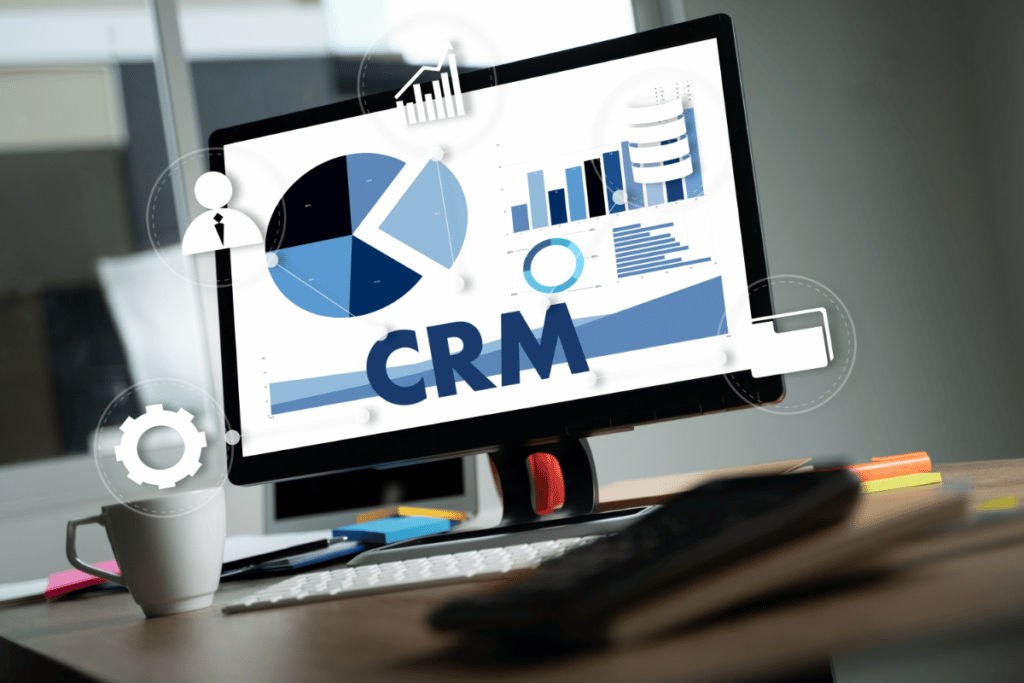 Our Prospecting Services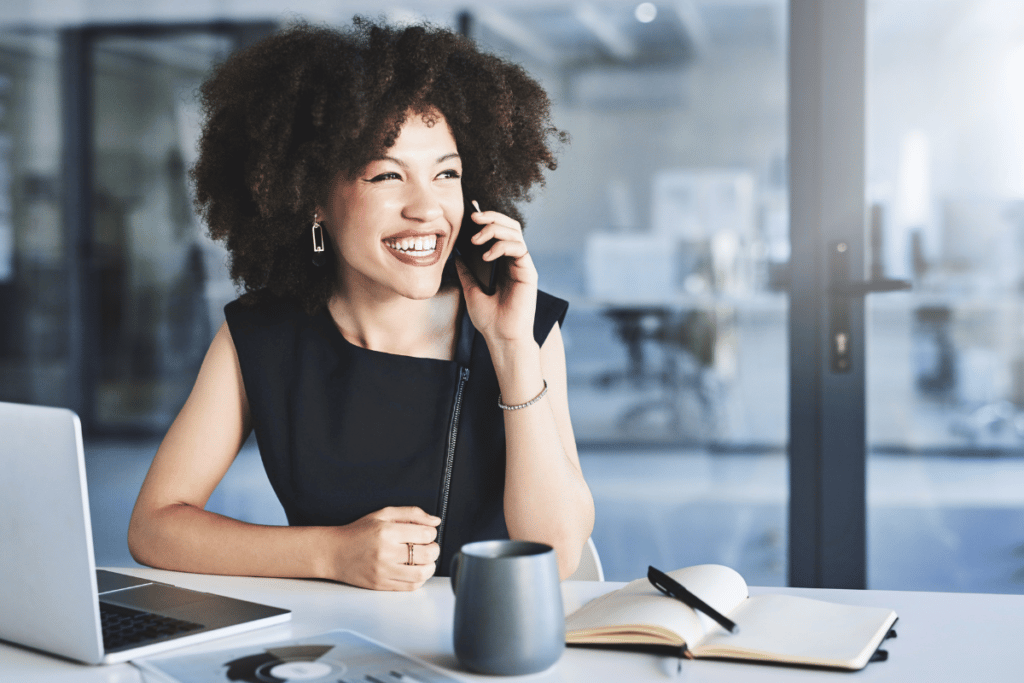 Through this button you will access an Offer with DISCOUNT and LIFETIME ACCESS that you will not have on the Official site. You will be able to use this solution in your company, with your collaborators, your commercials, for your commercial prospection on social networks, LinkedIn…
We are happy to have been able to introduce you to this fabulous tool that you will soon not be able to do without!
Excellent prospecting to you.
You are looking for a prospecting provider and would like to learn more about our offering.
You've come to the right place, our teams only work exclusively with the solution we offer right next door.
Our service is performed on the sub-account created by you for us, you MUST therefore subscribe to the GOLD or PREMIUM offer through us in order to benefit from our services.
ClarkUp or how to do business prospecting the easiest way in the world ?
A question that many companies are asking themselves.
And often the question arises: which CRM software to choose for prospecting ?
Which one would be simple enough for anyone to use.
By all the sales people in your business in particular.
Let's review together so you can find that rare gem…
Simple software with a simple CRM !
How the right tool, ClarkUp, can change your sales prospecting with your customers
You know the saying: the SIMPLER the less complicated !
You must understand that today your business prospecting cannot do without a powerful tool, that's what ClarkUp offers you
This tool should have multiple functions built in so that there is only one member area to manage and not a multitude of accounts that are not connected to each other.
The ideal solution is, of course, an ALL in ONE tool !
ClarkUp looks like it…
An integrated database
Sales prospecting capabilities on various social networks
Some solutions even offer the ability to create short videos for a more human, prospect-friendly feel.
A lead tracking system
A solution that does not link your social network accounts to your tool ( to avoid blocked accounts, penalizing you for your prospecting )
Allowing you to 'serve' contacts potentially not contacted by your competition 😉
You offer a referral system, optional, but potentially allowing you to amortize the tool in question.
That's it for the main outlines, the groundwork is laid !
Does your current prospecting solution meet ALL of these criteria ?
Do you not have one yet ?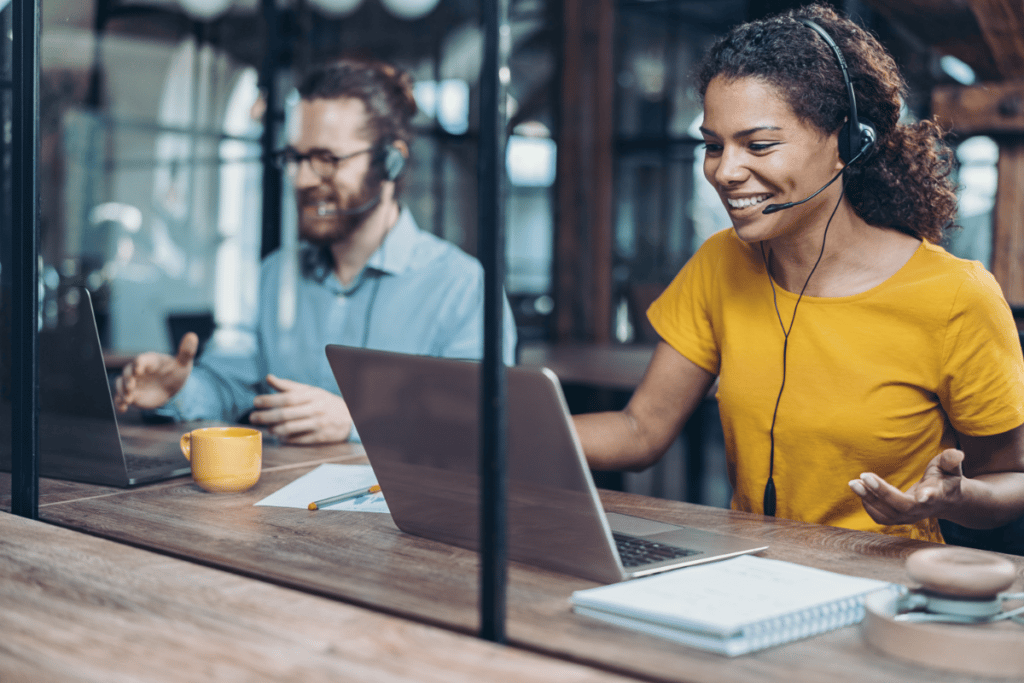 The ClarkUp tool alone is not enough !
In fact how do you want to do business prospecting if no one is doing it…
You need to have a dedicated person whose job it is.
Yourself, provided you set a fixed time slot and don't deviate from it ( difficult for a multi-hat executive )
You have a staff and one of your employees MUST comply without fail
You can also delegate this task to a service provider
Sales prospecting your number ONE mission !
How to make your business prospecting effective
It's very simple…it's a mission !
And this mission must be accomplished steadily, tirelessly, without ever failing.
Beforehand you will have defined your ideal prospect so that you can best target them.
The great thing about some social networks is that it is increasingly easy to sort out 'classic' leads from highly 'QUALIFIED' leads with very high potential to convert into customers.
Which social networks for good business prospecting ?
Depending on your business, depending on your ideal client you may be better off on some social networks than others.
ClarkUp gives you access for your prospecting to the most well-known ones you already know :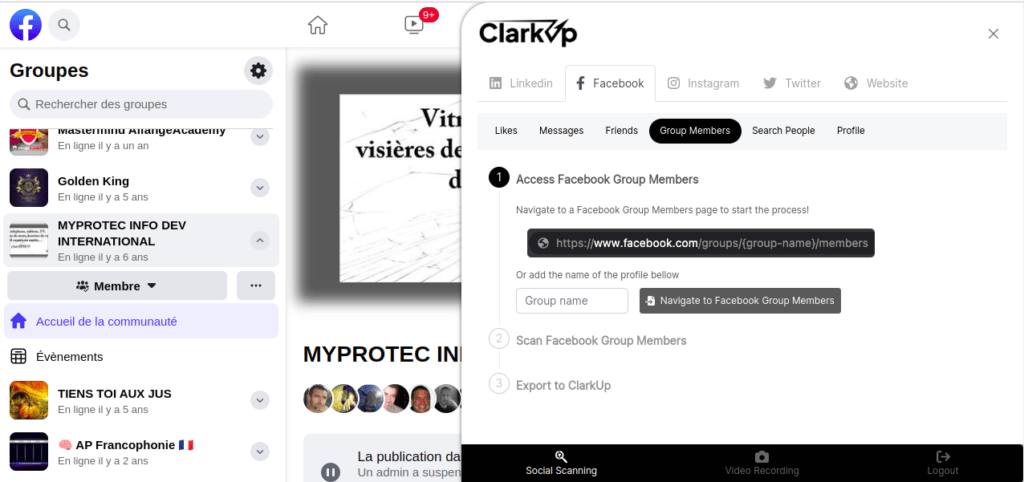 On FaceBook, ClarkUp allows you to download ALL profiles that have liked a post. Your post or another profile's post. If you are a member of a group, you can download all the members belonging to that group. You have these same features for your friends, those who have already sent you a message or when you find an interesting profile, upload to the profile unit.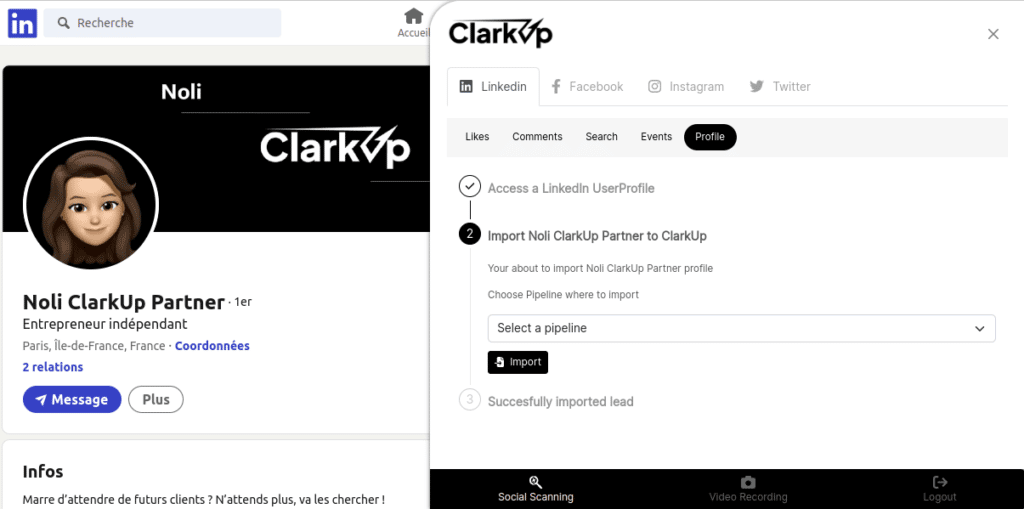 Similarly on LinkedIn ClarkUp allows you to download all profiles that have liked or commented on a post (publication) whether it is your own or someone else's. You also have the opportunity to download a single profile or people attending a LinkedIn event and even profiles from a search.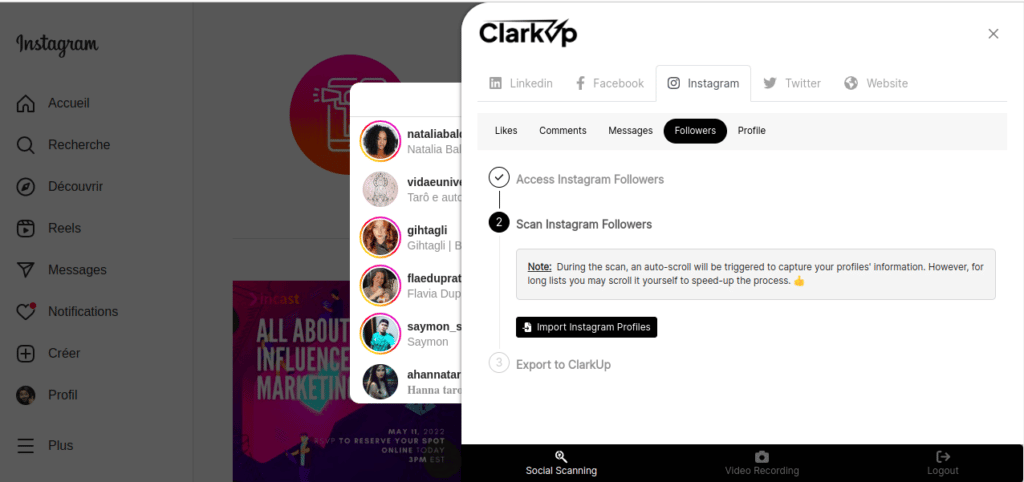 On Instagram ClarkUp offers you the following possibilities: download all Likes and/or comments on any post, all profiles you have exchanged messages with, followers of a public account or a single profile you might be interested in.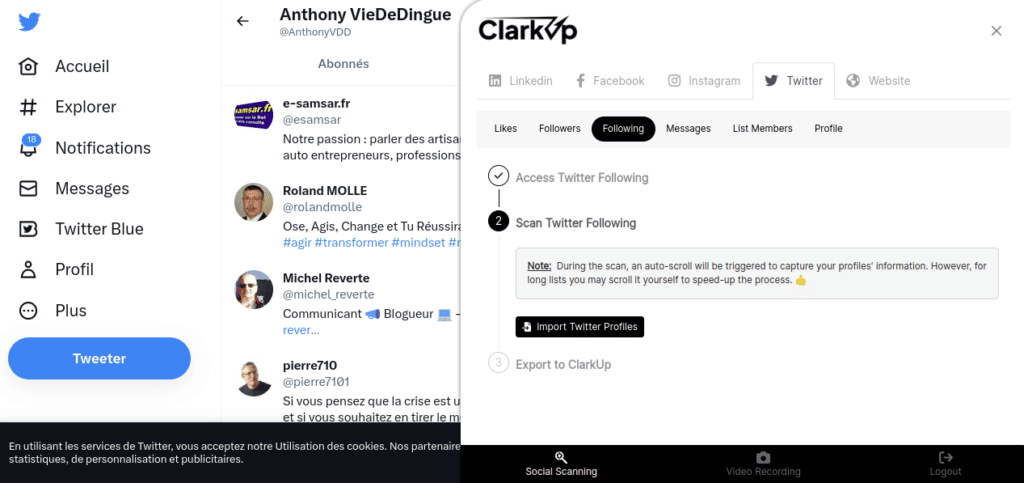 On the image above you have the full set of prospecting features for the social network Twitter.
To name a few as prospecting on Google MAPS is also possible !
It would be ideal if your tool could, through a single interface, a single account, interact on several of these social networks.
It should be able to centralize your customer base regardless of the social network used.
You could thus, in case you have several social networks for a prospect, make your sales approaches on multi-channel to maximize your chances of conversion.
That's good timing since that's what ClarkUp offers !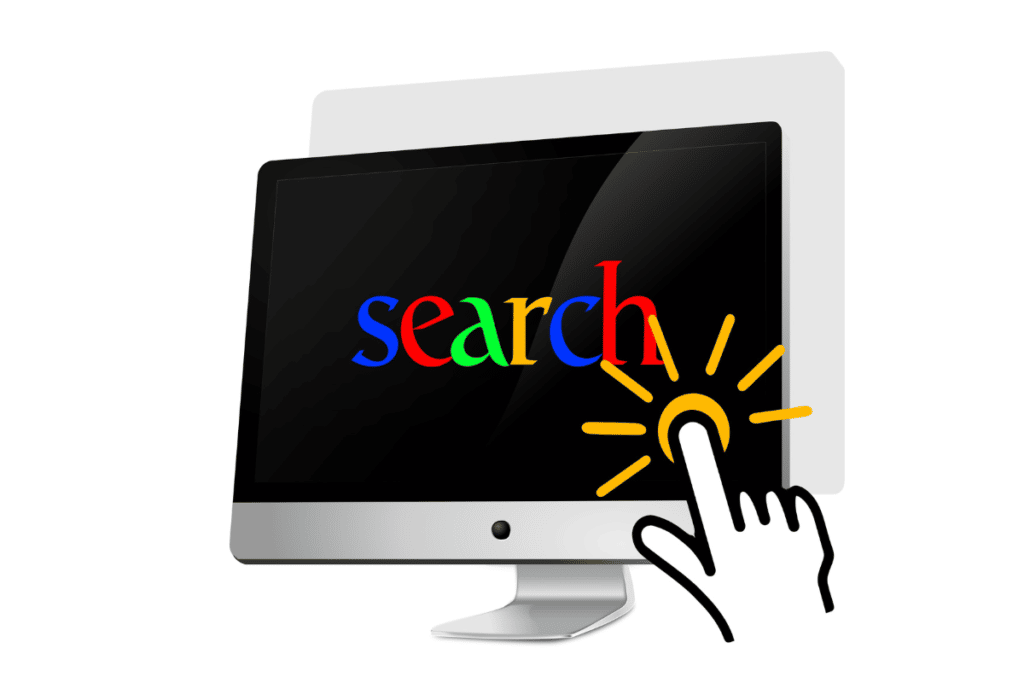 ClarkUp's Google Chrome extension
ClarkUp would be nothing without this great extension they put together that allows for all the features seen above.
The extension is basically the link between your ClarkUp account and the various supported networks WITHOUT connecting to the accounts. 
Otherwise say you can use ClarkUp with your LinkedIn account and one of your employees could also use ClarkUp and it would be their account that would be open for prospecting and not yours.
For more information on how the extension works see our article on the subject.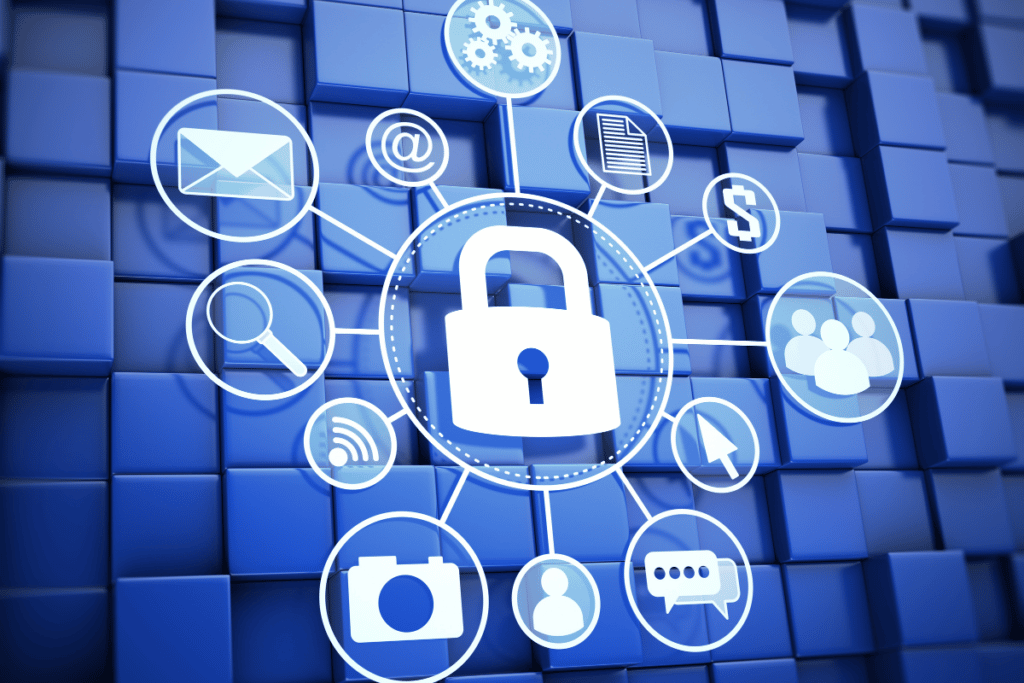 ClarkUp's Simple and Intuitive Member Area
To be efficient and easily usable by all of its users without the need for specific skills, ClarkUp has built its member area to respect this desire.
Steve Jobs himself would have appreciated this aspect.
With this goal in mind, ClarkUp communicates with its members in a variety of ways:
webinars for users
webinars specific to ClarkUp commercial distributors (Optional Affiliation)
Telegram channel for affiliates
On the other hand the member area gives access to information about new tracks or features the team is working on. You can also vote for the ones you are most interested in or put your suggestions to the team so they can study if it has interest and if it is feasible.
You can see our article to go further on this topic.
ClarkUp Internal Training
Although the ClarkUp tool is simple and intuitive it is still necessary to understand and assimilate how it works.
That's why the member area offers a training section where you'll find everything you need:
starting with how to install the Google Chrome ClarkUp extension
how to use all the features of the tool
how to use it on each of the social networks
how to go about generating revenue with the affiliate program
ALL the video are now available with English subtitle for International purpose but the commercial funnel is still in French.
Contact Us if required, it will be a pleasure to help you !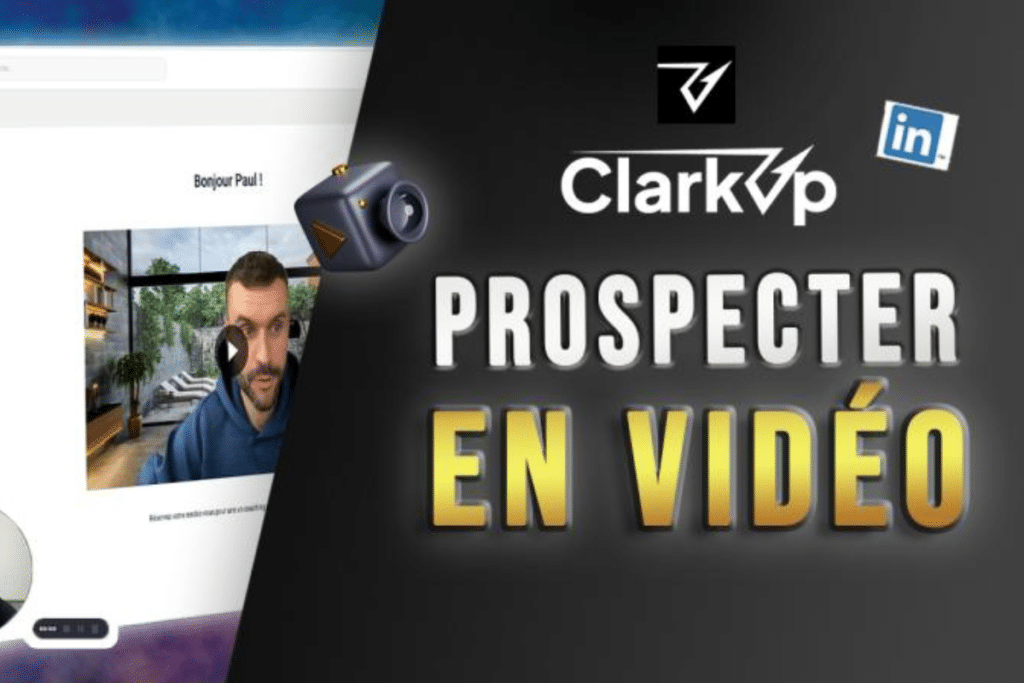 How to make your sales prospecting even more effective? The VIDEO! Already integrated with ClarkUp…
In fact it seems a new trend is emerging in business prospecting 3.0.
Video could be an undeniable asset in conversion efficiency.
This is demonstrated by some statistics, of the use of this technique, in the US.
As you may know most of the trends, which come to Europe after some time, are quite often originated in the United States.
For the record, ClarkUp's CEO, while French, lives in Canada.
The video further allows:
A special, more human touch
A more personal contact
A pledge of professionalism
Your interlocutor knows he is not facing a ' fake'
profile.
And imagine the power of a GIF image received in an email or you see your contact, you or your collaborator, scanning the prospect's social network.
Don't you think they'll want to see the associated video and listen to your message ?
What impact can this simple feature have on your revenue at the end of a year ?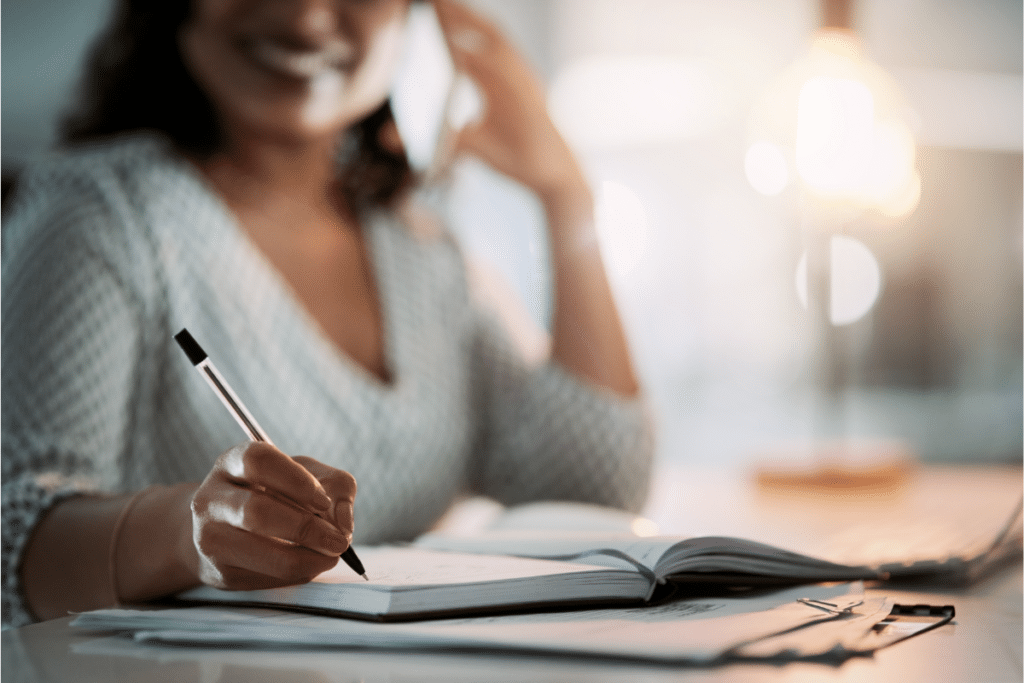 How to follow up on your sales prospecting with ClarkUp
Follow-up in sales management is what will make all the difference.
You already know that your prospect will not sign the order form on the 1st contact.
So it's critical to have a tracking system for your leads.
Your tool will have to allow you to position your contacts in a sequence of actions, of messages, that you will have previously defined according to your commercial strategy.
You will be able to easily, with color codes, have a visual situation of the actions to be done on each of the contacts so that they evolve within your system and this on a daily basis.
Thanks ClarkUp !
Who should :
Be contacted
Be re-launched, 2nd re-launch
Sending a video
Sending the calendar to set up an appointment
…
Until the exit of the sequence if the sale has taken place 😀
How to be even more effective at prospecting
Depending on your industry you can couple your social media prospecting with:
An old-fashioned, physical prospecting. This is especially common in industries like real estate, especially in the provinces.
Advertising in all its forms is also a excellent way sometimes.
Your website's SEO will ensure that you get traffic from qualified people for your products if you have done the necessary work.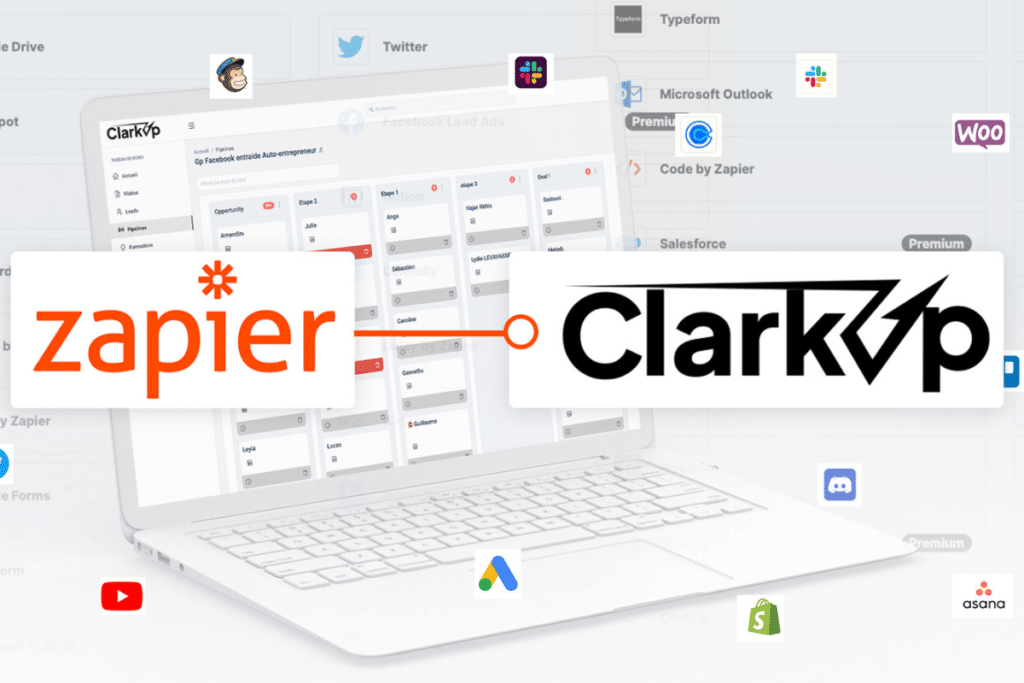 Marketing Automation with ZAPIER and MAKE !
To further increase the potential of the tool you can now connect it to your external Apps (applications) to create automated tasks.
All this is made possible through 2 platforms, ZAPIER and MAKE, which allow you to connect over 5000 Apps together for your automations.
No more tedious tasks, go for automation !
Discover the SELECTED tool for your research: How to do EFFECTIVE prospecting
To date, and through our various research efforts, we have been able to identify a solution that comes closest to all the criteria listed throughout this article.
ClarkUp !!
His secret ? His Google Chrome extension !
So we couldn't present you with a comparison… due to the lack of a real competitor.
Other tools exist but not with the potential of the one you are about to discover below !
ClarkUp affiliate, possible but optional
ClarkUp, for its commercial deployment, has chosen among other things to give the opportunity to its user members to be able to promote their solution through an affiliate program.
The principle is simple, if a sale is made as a result of your recommendation you will receive a commission. 
You are a business contributor for ClarkUp !
The commissions are on 2 levels :
your direct sales, 25% of the sale price
sales made by one of your clients/affiliates, also 25%
Affiliate Benefit :
ONLY affiliates can offer LIFETIME ACCESS to the PREMIUM Plan to their prospects
ClarkUp on its official website does not offer this possibility.
And given the EXCEPTIONAL offer made you have in your hands a great argument to close the deal.
Marketing materials for the promotion of ClarkUp
The professionalism is again at its highest level.
Banners of various sizes and visuals are available to communicate about ClarkUp (actually in French).
They are available for download or you can also, with the HTML code, integrate them into your website or blog for example.
16 different possibilities, horizontal, rectangular, vertical, square…
Other possibilities are some videos from their YouTube channel that are embedded in promotional pages and linked with your affiliate link.
This gives you access to 6 pages containing the following FRENCH videos (actually) :
For more information on the ClarkUp Affiliate it's here.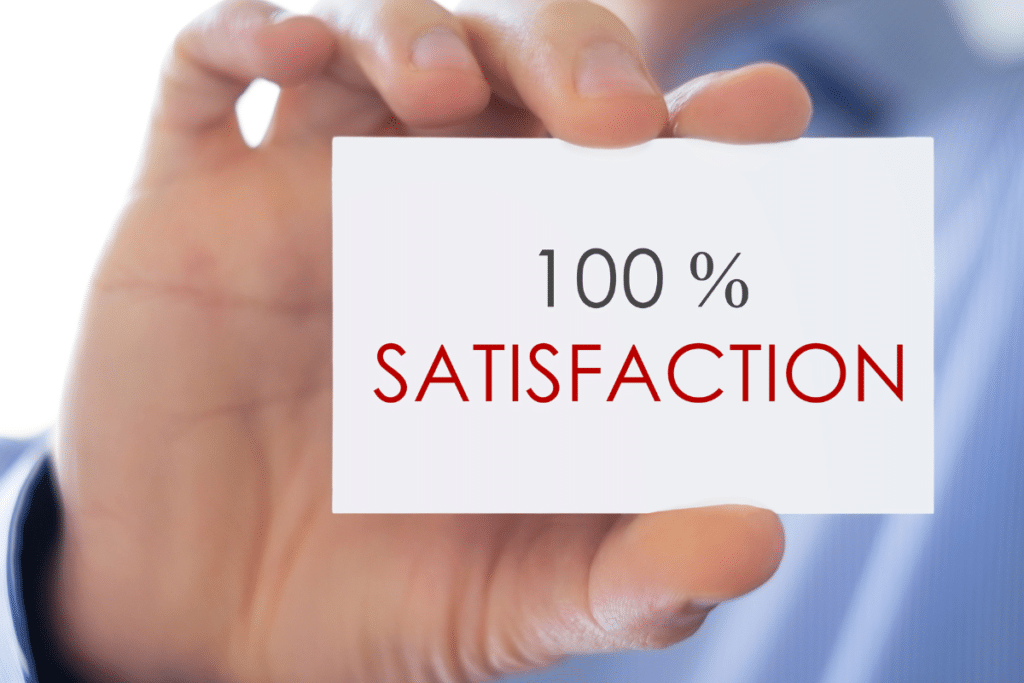 ClarkUp review ?
You may tell us that our review is not objective because we are members and users of ClarkUp, that's why we wrote a specific article about our review by going through 5 key points under the microscope.
This one is available here !
Our experience comes from our background in Call Center and with the use of solutions such as Salesforce or even SAP…
As much as to tell you that ClarkUp is a real treat compared to these other software.
You sometimes find yourself not wanting to stop prospecting.
It's almost become a real game !
The rates for the different ClarkUp plans 
As you can see, there are 3 plans available depending on your needs.
Subscriptions can be monthly or annual and are WITHOUT Automatic Renewal.
You can very well test this solution for 1 month ONLY and decide to continue or not.
You can UpGrader at any time for a higher offer.
Basic Package
Gold Package
Premium Package
✅ €149/month – €1499/year
✅ €299/month – €2999/year
✅ 499€/month – 4999€/year
🟠 👥 15 pipelines
🟡 👥👥 50 pipelines
🟢 👥👥👥 ILLIMITED
🟠 👥 15,000 Leads
🟡 👥👥 50,000 Leads
🟢 👥👥👥 LIMITED
👉 No commitment
👉 No commitment
👉 No commitment
🟠 👥 100 videos
🟡 👥👥 250 videos
🟢 👥👥👥 ILMITED
🔴 ❌ 0 subaccount
🟡 👥👥 2 subaccounts
🟢 👥👥👥 3 subaccounts
🔴 ❌ Private usage training (Zoom call)
🟢 🎁 Private usage training (Zoom call)
🟢 🎁 Private usage training (Zoom call)
🔴 ❌ No LinkedIn credit
Lead enrichment / option
🔴 ❌ No LinkedIn credit
Lead enrichment / option
🟢 150 FREE LinkedIn credits ( per month )
Lead enrichment / + option available if needed
ClarkUp's exceptional LIFETIME ACCESS OFFER is HERE !
This offer is available ONLY with a link from a distributor who is a member of the ClarkUp Affiliate Program.
The official ClarkUp site does not qualify for this opportunity.
The rate for this offer changes each new month with the price going up of course.
In January the ClarkUp offer was available at 1497€ for its LIFE access with payments in 1, 3 or 5 times and even 10 times on the LAST DAY of the month for those who had left their email address, that is 159€ x10 for some lucky people.
In February, ClarkUp Lifetime Access is at

€1597

,
In March, Lifetime Access to the ClarkUp PREMIUM plan is at

€1697

, 
In April, Lifetime Access to the ClarkUp PREMIUM plan is at

€1797

,
In May, Lifetime Access to the ClarkUp PREMIUM plan is at

€1897

,
In June, Lifetime Access to the ClarkUp PREMIUM plan is at

€1997

, 
In July, there are 2 OFFERS:

Access

for LIFE

to the PREMIUM plan is at

2097€

, now that's 100€ more, still with payments possible in 1, 3 or 6x.
Access 3 years to the PREMIUM plan to

1497€

with payments possible in 1, 3 or 5x.

 

I want to learn MORE and check out the LIFETIME ACCESS OFFER !

Timer expired